It's been a while since I gave you an update on the new family room. Oops. (If you haven't read about the family room before, you can check out the mood board and first steps we've taken to get you all caught up.) When I left off, we were waiting for our new sectional to arrive from IKEA, finding an electrician to install recessed lighting, and contacting a cabinet builder about a 21-foot wall of built-in cabinets/shelves with a fake fireplace in the center… Out with the old formal living room, and in with the new casual family room.
The cabinet guy Michael's builder friend recommended was David Strauss from Custom Express and More, so Michael gave him a call and scheduled for him to come out to our house to discuss what we wanted to do. I printed out the picture below from The Lettered Cottage (which was on our original mood board) as well as a few other inspiration pictures (and a picture of what the neighboring board and batten entry would eventually look like since it was not complete at that point), but the rest of it was really only in my head.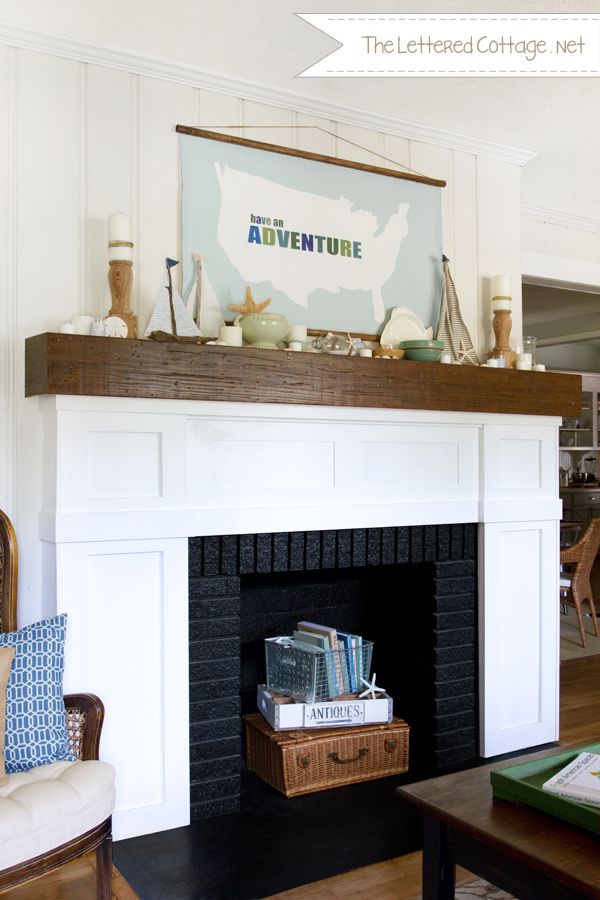 David was not only really nice, but he was able to decipher what we wanted looks-wise and what we needed function-wise. He didn't act like we were crazy at all. (Did I mention we had the entry way under board and batten construction and almost no furniture in the future family room at this point except for a mis-matched nursing rocker, a few little square ottomans, and a tape outline of where our sectional will go…? It looked like a couch had died there. Or we'd just moved in. Except we hadn't. Unless you count 9+ years ago as "just". Right…) A couple of days later, David sent us a design of what he envisioned for our wall of cabinets/fireplace based on the information I'd printed and spewed verbally. He hit it spot on.
Awesome, right? It was so cool to see them coming to life! We had a few details to work out about paint colors and stain color for the mantel beam, as well as the exact sizing of everything above the mantel (where Michael's precious TV would hang), but we were so close already. David's company builds all the components for the cabinets and paints them off-site, so once we finalized the design, it would take about a month before they arrived to install them.
So, while we waited for that awesome day, our IKEA Karlstad sectional finally arrived. Woohoo. Woohoo. Woohoo. Lots of boxes to assemble. (Some people think boohoo here, but again woohoo from me — I love building things. Even IKEA furniture. Despite no words on the directions.)
When the little guy was napping that day, I unboxed and assembled the whole thing. And as soon as he woke up, he found his new playland. And decided it looked like a great place to park a car. (Yeah, I know. We are crazy for going with white.)
The new sectional is a little lower than the sofa we had in this room before, so he was overjoyed that he could pull himself up onto it. Uh-oh. It was hard to get a picture of it without him at this point. Little photobomber. It worked out that we were able to reuse the four old square ottomans we had from the den. I didn't measure for that ahead of time, so we were just lucky that they fit perfectly. Er, I mean, it was totally part of my plan :)
A week or so later, the electrician came to install the six new recessed lights and new dimmer switches for them, as well as a few other outlets we'd identified as needing since he was already coming out. To give him the space he needed, we partially disassembled the sectional and moved it into the adjacent dining room — which is why that red room in the back is packed to the gills with furniture in this picture.
Yay new lights. Oops for cutting off the two closest ones to the camera in the picture…
Since the dimmer switches made to go with the LED lights can only control a certain number of LEDs, we ended up needing two switches, which was perfect so that we could have the option to control the front and back rows independently.
While the sectional was disassembled for the electrical work, I removed the legs and painted them so that they weren't the IKEA basic birch. I went around a few times about what color to make them since the slipcover is white, and I ultimately landed on a weathered gray so that we had a few more options if we decided to switch it up later and go with a darker slipcover. I spray primed them with Rust-Oleum Painter's Touch Wet or Dry Sandable Primer in Gray (with no sanding or anything ahead of time since it was primer), and once that was dry, I mixed some of our sample pot of SW Silverplate (the color already on the entry walls and soon to be on the family room walls) with water and whitewashed them with that. I repeated the whitewashing step a few times to get the exact color I was going for. The one on the right in the picture below has only been primed, and the one on the left has been primed and whitegraywashed.
After meeting with David, we knew we were going to need some HVAC help to move the two return vents on the wall where the bookcases are going. We needed them to come out of the floor instead so that the returns fall in the cabinet kickplate instead of into the middle of the cabinet. Once the HVAC company came out and moved the returns, it looked a little strange for a bit until the cabinets arrived.

With all that complete, here is what is still left:
– find small end tables
– decide if we want to recover the ottoman squares
– find white ceramic objects
– find wall art
– find curtains
– find throw pillows
– figure out where our TV components are going to sit
– paint the walls
– find baskets for toys
– decide on fireplace insert
– buy more thin bricks for the face of the fireplace
– buy TV mounting supplies
– decide on color to paint the back wall of the cabinets
– decide on color to stain the mantel beam
– decide on size of the mantel beam
So, at this point, there are a few decisions to be made and communicated with David, a lot of sourcing to be done, and a little waiting. Doo tah doo….
Anyone else have a toddler, two dogs, and a white couch?? Have you added overhead lighting to a room with only lamps before? Or a fake fireplace?